Ed Sheeran's "Shape Of You" is refusing to die down. There have been numerous dances for the song the flame for which was ignited by the IIT Roorkee students. The latest now is from Sushmita Sen and her daughter and its no less than others
The 41-year-old shared an adorable video where she is dancing to Ed Sheeran's hit number along with her younger daughter Alisah.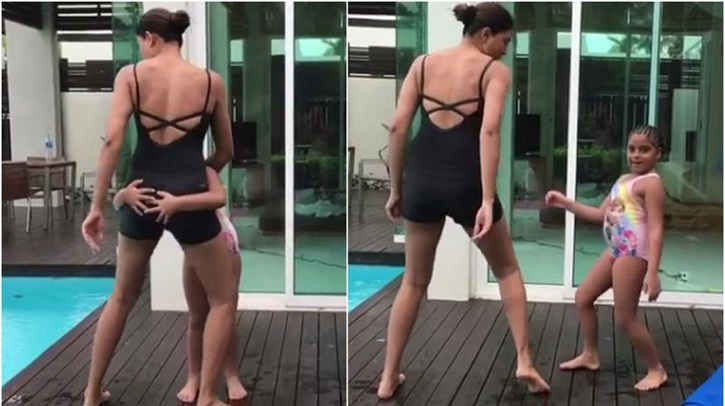 She posted the picture on Instagram with the message, "#frameofmind there is a song I love by #leeannwomack 'when you get the chance to sit it out or dance, I hope you dance' these moments (be it around my #friends or my #babies) are a wonderful reminder that each time a situation suggested to 'SIT IT OUT'…WE CHOSE TO DANCE moving to our own beat #anytime #anywhere #anyhow Alisah with beaded hair owns her moves #toocute Renee saunters down the beach celebrating life with #maa #memories #cherished #happiness #sharing I love you guys!!! #ihopeyoudance."
Also Read : Ed Sheeran's "Shape of You" and The Dances.
She can be seen wearing a chic black swimsuit while Alisah is wearing a pink one. Towards the end, Alisah is seen grabbing mommy by the waist and grooving to the song.
What do you guys think of this. Please comment and let us know. And dont forget to share this adorable Mummy Daughter combo.