Its that time of year. We are in the third month of 2017 and the holiday season for schools are fast approaching. The revelry of the new year is long gone and most of us want a break from the break neck speed of life. What is more relaxing than from a long leisurely holiday relaxing on our favorite beach or on the hills ? . Whats more relaxing than being in a nice hotel and all our needs are taken care. No more cleaning the house . No more cooking . No more going to market . No More daily rat race. Imagine it . Don't you feel good already ?. At least I feel .  If you are with me , lets plan our next holiday . Here I bring you 10 Awesome destinations that you cannot miss this year. Pick one Plan for the first one now !!!!
1. Gurudongmar Lake , Sikkim
This lake looks different in each season and it looks beautiful in each one of those. And Sikkim as you know is a treasure trove of beautiful places. This is only one of those.
Poovar doesn't come in the normal beaten track of tourism of Kerala. It's offbeat and it give you that peace of mind you always wanted. It has breathtaking views and beach is close by too. You just cant do wrong with this . And as you know Kerala is known as Gods Own Country for its beauty. Poovar can be the start or end of your journey here but I am sure that you will not be disappointed.
Also Read :  14 of the most romantic places in the world
This one is for the history seekers. Now Madhya pradesh is not only about history . It's a very big  state and  it has lot and lots to see. From water falls to forests to history . So don't shy way  from this place . It's the center of country and you can start your exploration of India from here too .
4.Chilika Lake , Orissa
Located in the east India's state of Odisha, Chilika lake is known to be one of the finest lakes in India. It is a brackish water lake stretching across more than 1,100 sq m. It is a haven for migratory birds and also home to several threatened species of animals and plants. If you are looking for a scenic destination rich in natural flora and fauna, Chilika is a must-visit for you. Orissa has other places also worth visiting like the Puri temple , Sun temple and caves. 
Known to be India's coldest inhabited place and second coldest in the world, Dras is located in the Kargil district of Jammu and Kashmir and renowned as the 'Gateway to Ladakh'. This picturesque hamlet is just 60 km from Kargil and is one of the best offbeat places to visit in the country. The best time to visit is during the summer months of June to September.
Known for its rich cultural heritage, Lucknow is one of the best places to visit in Uttar Pradesh to get a taste of the history and culture of north India. The amazing palace complex of Bara Imambara is one of India's most magnificent historical monuments and must be visited for its sheer grandeur. Lucknow's delicious kebabs are renowned all across the world making it a great place for a gastronomy tour in India. So if you want to fill your eyes and your stomach this is the place to be .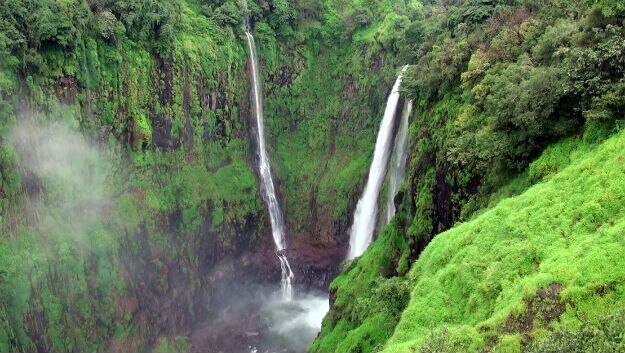 An emerging tourist attraction near Satara, Phaltan is worth a visit on account of its beautiful pomegranate farms and pleasant weather.Satara is also the place to be to see the valley of flowers which will remind you switzerland. This are relatively unknown places of the tourism rich Maharashtra where you can experience Beaches to Mountains.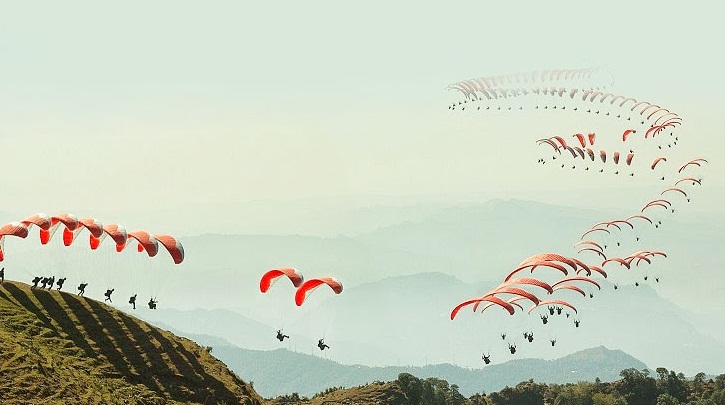 Known as India's paragliding capital, Bir and Billing in Himachal Pradesh is an excellent choice for an offbeat vacation in the Himalayas. be it the natural beauty of the surrounding mountains or the adrenaline of paragliding, you will return with memories to cherish for life. Start your vacation here and then explore Himachal Pradesh which is one of the most beautiful states of India if you love mountains
9. Cow Beach , Goa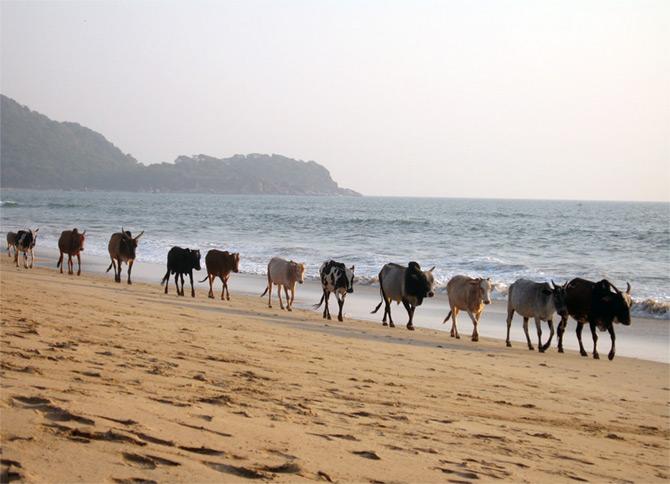 Ok. Cow beach is a name that I gave, because you can always see the bovines here. This is the agonda beach of Goa and without Goa any list of tourism is incomplete in India . This is one of the secluded beaches of Goa and you can find your peace and quiet here. But if you want the mad rush of partying you already know where to head in Goa.
10. KumbhalGarh Fort , Rajasthan 
The image above doesn't do justice to the majestic fort of Mewar.Built in the 15th century by Rana Kumbha, Kumbhalgarh is the birth place of Maharana Pratap. This glorious fort is testimony of the valour of the Rajputs and how even the mighty Mughals couldn't capture it alone! Kumbhalgarh Fort is protected by 13 mountain peaks of the Aravalis. The entrance is through seven imposing gates. A 36 kilometre wall, second only to the Great Wall of China, surrounds the fort. It's 15 feet thick, broad enough for eight horses to ride alongside each other. There are 360 temples within the walls of the fort. Despite being 700 years old, Kumbhalgarh Fort is still intact and in good shape, truly making it one of the hidden gems of Rajasthan.
Looking at those places dont your nerves tickle. I have already packed mine and I suggest you do the same. But please do us a favour. Please book your hotels only here . And share this story with others. These places need to be cherished by many .