Human Trafficking is not a myth. Its not something that is happening in far away lands and only in slums. It is truth and we all have to be awre and vigilant. We cannot bury our head in sand and say it is not happening and it doesn't matter to me . It happens everywhere in India. In a country where Goddesses are being worshipped in temples across the country , it is terrible what's happening with the little goddesses inside the house.  There are girls who are barely four , five or six who are abducted mistreated and forced to prostitution . The social fabric of Indian society is such that it always encourages double standards . It's a pity and such a shame that a pious city like Varanasi is also home to one of the biggest child trafficking and prostitution racket in India.
It is in such a situation that the organisation named "Guriya" is doing such a tremendous work in the grass roots by rescuing many young girls and giving them reason and way to live.
Varanasi
Also Read ( And Initiative to make a city hunger free)
The Very Ugly Truth
According to a report by Department of Women and Child Development, Govt. of India 75% – 77% victims enter the trade due to trafficking  . Only 0.15% (1 in 700) victims are ever identified. That is the state of affairs we have in our country.
In many of the cases the mighty and powerful, right from goons to politicians to policemen are involved in the shameful act and simply do nothing to save these girls. In fact, they blame the girls' parents that it is a case of their girl running away willingly with some man, even if the little girl is just a six-year-old. And we call ourselves civilized.
Guriya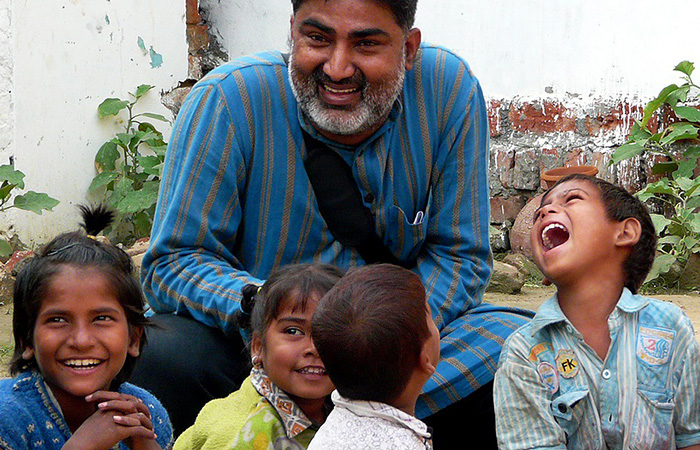 Meet Ajeet Singh who is the heart and soul of Guriya which works for eradication of sexual exploitation of women and children in the society. They have saved more than 2000 girls and women from exploitation from their inception in 1993 and many of them have alternative sources of income after they came out of the clutches of the evil forces that were holding them captive.
Guriya has been involved in various activities such as community mobilization, campaigns in schools, rescue operations, health support, international collaborations and much more.
Ajeet Singh, the founder of 'Guriya' was awarded the Nari Shakti Award by the honourable President of India and had tea with Prime Minister, Modi.
Now watch this video which touches upon the truths of child trafficking and will make your mouth go dry with emotions.
So what will you do to stop this menace. Will you forget about it after reading this or will you do something. At least share this post to your friends so that it reaches more people. May be a life will be saved with only a click from you .
Also Read : ( The woman who cut off her breasts )