Aamir Khan's Dangal has just raised the bar for women and what they can do, which is almost everything. But there are some sore points where it falters.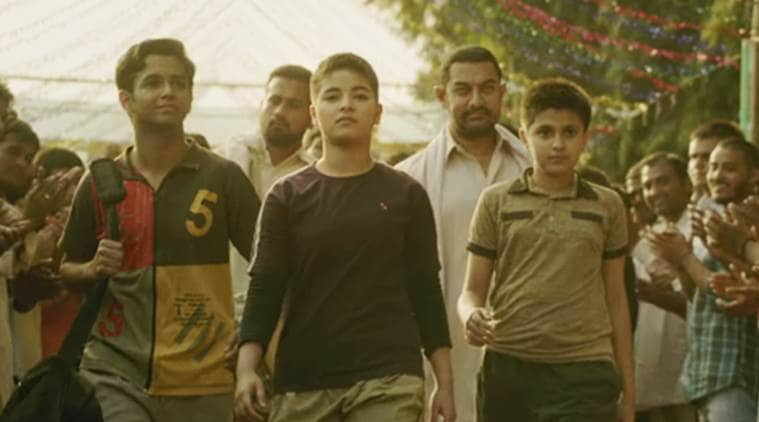 Coming out of the cinema theatre, my first impression of Dangal was superlative, based mostly on the superb performances of the characters and slick direction that made it possible to make a movie out of wrestling matches. More so because it took me by surprise that I sat through a sport I do not like one bit.
But slowly, on analysis, second thoughts emerged to wrestle with my first opinion to make it a close match.
Based on the real-life story of Haryana's national wrestler Mahavir Singh Phogat, and his gold medallist daughters (four of them with the movie focussing on two), there is that element of watching a true story and the trials and tribulations facing sportspeople in India. Geeta and Babita, his two eldest girls are Commonwealth Games gold medallists with Geeta also being the first Indian woman wrestler to qualify for the Olympics.
Phogat played excellently by Aamir is a shattered man whose dreams of training his sons as wrestlers are crushed when he fathers four girl children, one after one. Giving up after the fourth attempt, he surrenders to leading an ordinary life of sustenance till opportunity offers the man a chance to train his daughters instead.
Here is a man who faces the ridicule and warnings from society to push his daughters into a profession which is seen as a male bastion. Not only do they excel in wrestling but go on to win many medals. In that way, Mahavir holds up an arm to the nation's patriarchal majority. He goes on to show that girls can be as good as boys in any sport. So, let the foetuses grow and flourish.
Rotis or the ring?
The movie sheds light on how bad the situation is for women in Haryana which is among the leaders of India's skewed child sex ratio given its track record in female foeticide and infanticide. In a scene, a young bride tells Mahavir's girls who are complaining about their father's strict ways of training, that they should be thankful he is preparing them for the future. Wistfully she notes how her own future is all about cooking and cleaning for a man she has never met!
The actors playing Geeta and Pabita are the real stars in this Aamir Khan film. Initially played by Zaira Wasim and Suhani Bhatnagar and then by Fatima Sana Shaikh and Sanya Malhotra, the foursome had to undergo rigorous training including hours of swimming, wresting and body-building. Most painful was cutting long hair short, said Kashmiri Zaira Wasim in a media report. (This was besides the opposition and criticism Wasim had to face back home.)
No wonder the matches in the movie look no less than real ones. Director Nitesh Tiwari succeeds in infusing a live enthusiasm into these, with audiences cheering and whistling and sighing for the Phogat girls.
Dangal is a sore reminder of the sad state of affairs in the country's sports arena. The official neglect of national award winners, which we saw earlier in Paan Singh Tomaar, the bureaucratic ways of the sports federation, are all clear pointers to what the country needs to address if it wishes to figure on the international scorecard.
Finally of course there is Aamir in his realistic portrayal of the Haryanvi wrestler. Having gained almost 50 pounds for the movie, he flaunts an enviable brawn and goes on to add a typical belly in the later years. Perfection to the core.
All laudable. But…
The one sore point, or rather a point calling for debate, is that of how a parent here forces his aspirations on his children. However selfless (all-for-your-good) or noble the intention, it is debatable if it is something to be appreciated. Mahavir almost bulldozes his two girls into wrestling. True, they would otherwise have been blowing away at the fire and rolling rotis. From warming the hearth for some strange man and bearing his children, these girls become famous and have a self-worth.
But, remember the scenes where he chops their hair and cuts short their merry-making at a wedding? For their good as wrestlers, yes. But in the process he has not only stolen from them the best years in life, but also forced them into a profession which he loves.
Forcing children
Should children be coached and drilled for long hours, whether it be wrestling or IAS coaching that begins at mid-school these days? In the pursuit of a good future, why must parents deny their children some of the best hours in life? Above all, why thrust one's aspirations on children? That is outright autocratic if not cruel.
Gone are the days when as parents we can claim we know what is best for our children. With the kind of media exposure they have, the world is at their fingertips. Children can decide for themselves, when the time comes, what they want to be. As parents, we can aim at watching out for natural inclinations and then guide them. That is where the problem is — definition of 'guide'. Some believe children do not know anything and must be pushed, not nudged, in a direction.
Yes, Mahavir smells 'wrestling blood' in his girls after they beat a boy blue in a street fight. And they did go on to win laurels for the state and nation. Lucky in this case. There can be as many chances the children are miserable due to parental choices of a future which go against their nature. A doctor's son may feel queasy at the sight of blood and an engineer's daughter have no love lost for math! Forcing them into a career will only spawn a brood of unhappy people.
The movie also begs another question on gender equality. It shouts out the cliche that women can do all that a man can do. Yes both are equal but do we need to do it all? Just to prove a point. I believe that the sexes are made in certain ways to take on certain tasks best. Violence is generally not a woman's scene. Of course, there are exceptions. If a woman loves to wrestle, she must step into the ring but we must avoid sending out a message that women can be pushed into anything. We already have taken more than warranted. There is no need for 'dangals' to prove equality.